Information on how to install an entry door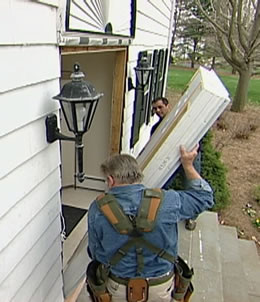 I have added some information on how to remove an entry door, and how to Install an inswing exterior entry door. There can be some variation on the proceedure based on the unique situation, but overall the process is the same. You will need an assistant to help with maneuvering the door.
The main challenge on installing a door is to make sure it is completely level so that the door opens smoothly and does not scrape. Shims are used to adjust the door angles, and get it to fit snuggly.
This process of installing a new entry door can be a challenge to someone who has not done it before. It is important to do the proper research ahead of time, have good tools, and an assistant to help out. When you have successfully installed an enry door, it is a very rewarding feeling.