What is the difference between a slab door and a pre hung door?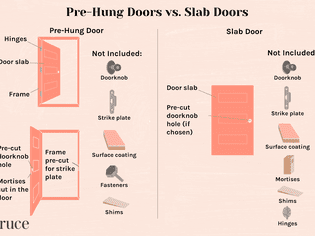 Some customers have been asking what the difference between a slab and pre hung door is so I put up
this short article
with some basic info explaining the difference.
A pre-hung door is a slab door that is already attached by hinges to a three-sided doorframe. It is sold by the manufacturer as a complete package and "ready to go," though some may need additional features. More expensive than a slab door, a pre-hung door is a mostly self-contained unit with a frame that fits into a prepared doorway. Upon sale, pre-hung doors are tightly bundled into their included frames with polyester tension packing straps and plastic spacers to prevent them from shifting or twisting during shipment.