Matching front door and garage door gives extra curb appeal
Increase your curb appeal with matching doors
A home's curb appeal can be enhanced using a great number of tricks and decorative secrets, but one of the simplest and most effective ways to give your home the appearance of personalized design is to have a matching front door and garage door. By changing your garage door and front door to designs that match, especially when opting for a bold color or unusual style, can make your cookie cutter home stand out and look far more appealing than a traditional home style.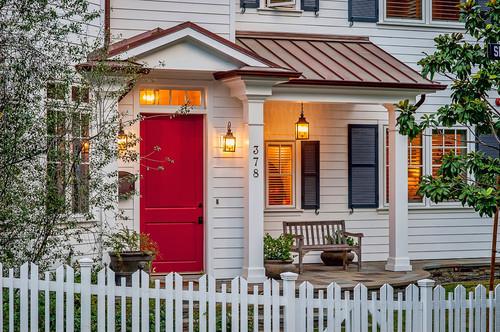 Just like there are many different styles of home designs and different ways a house can be personalized to suit its occupants, there are just as many variations of front doors and garage doors to choose from that will make your home look like it was designed by you from the ground up. Garage doors take up as much as a third of the façade of your home, which means the garage door is likely going to be the first thing neighbors and guests notice when looking at your home. The garage door is a wonderful opportunity for personal expression and is one of the first steps you should take when addressing the curb appeal of your house. Similarly, the front door is a major eye catcher, especially when the front walk way is designed in a way to draw in guests and visitors. These two areas take up such a significant portion of the front appearance of the home that it's crucial they look new, updated and stylish.
Select one style for both doors
The easiest way to get enhanced curb appeal with a matching front door and garage door is to choose one style and color for both doors. This way your home will have a fully uniform look, giving it a welcoming and comforting appearance. Both front doors and garage doors have several customizable features, including door material, window style, color selection, and decorative and functional hardware style, and matching all features can really give your home a personalized appearance. Choose a front door and garage door style that complements the overall style of your home or the neighborhood, and select matching window styles, hardware and a color that goes well with the rest of your home. If you're planning on painting the exterior of your home in the near future, choose a color for your doors that will go well with the house color you're likely to choose (take a look at neighboring home colors for inspiration). While it's easy to repaint your garage door and front door, it would be slightly annoying to have to do so less than a year after the doors are installed.
Select complementing door styles
When choosing a matching front door and garage door set, you don't have to select door styles that are exactly the same. Complementing or even contrasting styles can make the right statement and can give your home a unique look. Unify the style by choosing the same windows or same color for both your front door and garage door and experiment with similar yet distinct door features to create wonderful curb appeal. It might help to take a picture of the front of your home for reference when looking at front door and garage door styles online so you can better visualize how that particular door will look on your home. Plus, many garage door companies allow you to upload a photo of your home so you can "try on" several different garage doors and know exactly how each will look before you buy, giving you peace of mind.
Use the same color and hardware for both doors
Regardless of the door style you choose for your front and garage doors, using the same color and hardware can be the most effective ways to get a designer look. Both front and garage doors can be any color imaginable, and some homes look exceptionally attractive with a bold or unusual color. In fact, since the eye is already drawn to the front door and garage door, giving these aspects of your home an appealing or surprising color (green, red, blue, yellow, etc.), complete with subtle hardware choices, could be highly beneficial for your home's value and curb appeal. Even muted versions of traditionally bold colors can make a unique statement and dramatically improve your curb appeal.
Lindsay Mineo writes for GSM Garage Doors, a San Diego garage door repair company. Topics include garage door repair, garage door replacement, garage door spring replacement and garage door opener troubleshooting. Visit for Chula Vista garage door repair and more.