Which caulk should I use?

We offer 2 different types of caulk that are the best for sealing windows and doors: Siliconized Acrylic Sealant, and Polyurethane Sealant. Both are durable and energy efficient and can be used exclusively, but Silizonized Acrylic is recommended for interior caulking, and Polyurethane is recommended for exterior caulking. This is mainly because Polyurethane is toxic.
If you are doing a window installation, we recommend you purchase 1 tube of Polyurethane Caulk, and 1 tube of Siliconized Acrylic Caulk. Use the Polyurethane on the outside of the window, and the Siliconized Acrylic on the inside of the window. You may also need some Expanding Foam Sealant, and Vinyl Trim Strips to fill in and cover up any gaps. This is explained in the Do-It-Yourself article about how to apply caulk.
Siliconized Acrylic Sealant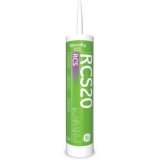 Siliconized acrylic caulk is a little less durable than polyurethane, but it is easier to work with since it cleans up with water, and better tolerated by those with chemical sensitivities. Siliconized acrylic caulk can be painted over after is applied. The added silicone makes it more water resistant and flexible. It is the best choice for interior caulking, but can also be used on exterior caulking.
The Siliconized acrylic caulk we recommend is called RCS20, made by GE: Product page for Siliconized Acrylic Sealant RCS20
Polyurethane Sealant

Polyurethane caulks are paintable, flexible, and weather resistant. They have superior bonding ability, to the extent that they can be used as an adhesive in certain applications. Because of this, polyurethane caulk works well in joints between dissimilar materials.
The downside to this type of caulk is that it is somewhat messy to work with, as it is stringy and sticks to your hands and clothes. It must be cleaned up with mineral spirits, as it is not water soluble. It can also be somewhat toxic, so it should not be applied around intake ducts or ventilation grilles, where siliconized acrylic latex caulk should be used.
The Polyurethane Sealant we recommend is SM7108 Permathane made by Schnee-Morehead.
If you would like information on how to apply this Caulk, then goto the Do-It-Yourself Section.
------------
Information Source: http://www.onlinetips.org/outdoor-caulks