Glass breakage warranty for San Diego Customers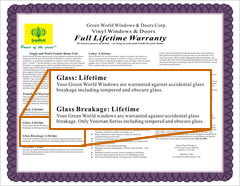 Our Green World window have a lifetime glass breakage warranty for customers who are in Southern California. This area is primarily Los Angles (LA) and San Diego. It stretches from Oxnard, to Imperial Valley. Customers who install their windows in this area are covered by the manufacturers Glass Breakage Warranty.
If you window breaks, a repair person from the manufacturer will come out and service the window. They will replace any broken parts, no matter how the glass was broken.
This warranty does not extend to other cities outside of Southern California, because the service people cannot travel the additional distance. They would be willing to ship small repair pieces to customers who install windows outside of Southern California, but they would not be able to show up at your location to do repair. For more information about the warranty of our windows, visit the warranty page: http://discountdw.com/p-6058-warranty-on-windows-and-vinyl-doors.html