16 Different house plans for styling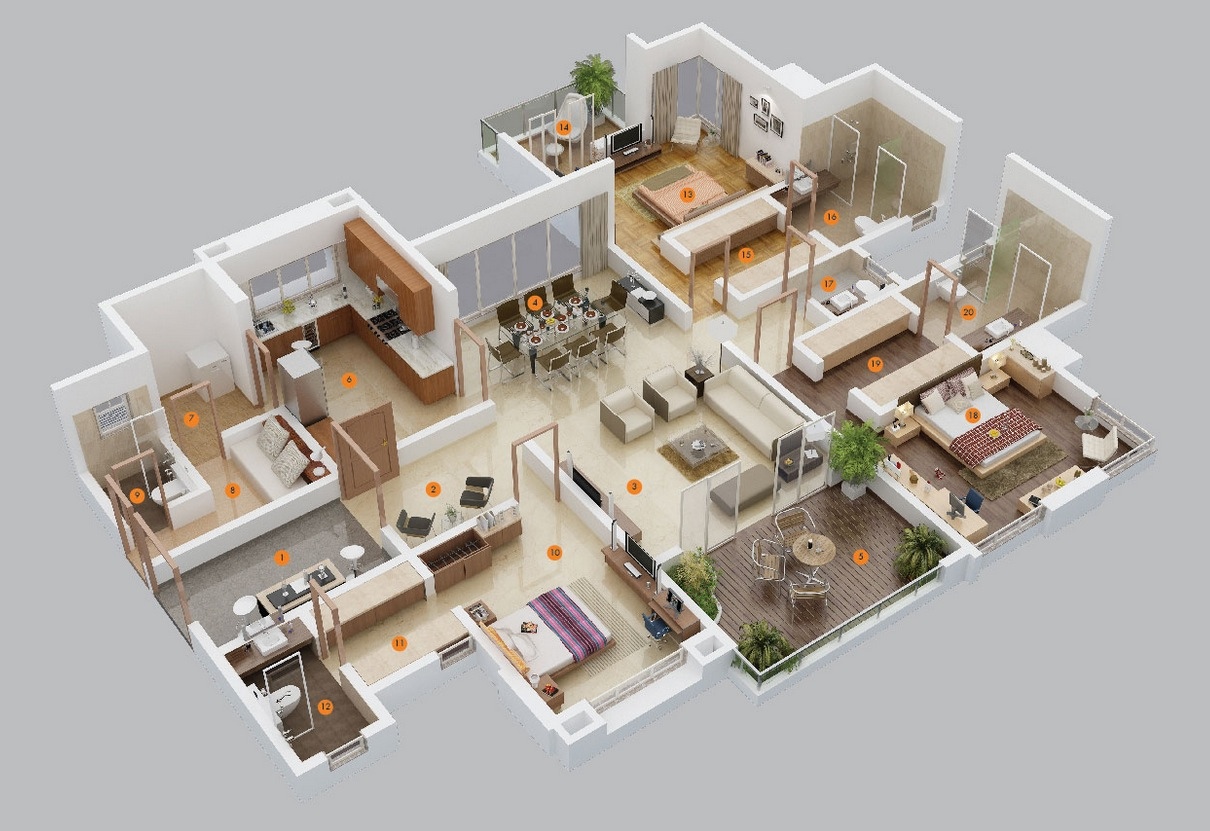 There are different house plans that you may want to know about. These days, may prefer to
accommodate few elements from different kinds of home décor themes and also make for a unique
appearance of the entire house. This is possible if you have the knowledge of the most popular house
plan styles

Know about different house plans and select the one that you want to define the look of your home.

Beach house Plans

Beach house plans basically have a very profound vacation home's appeal. They are primarily built on a
beachside with a lake in the front or coastal trees surrounding them. You may make your abode look like
a beach theme one. You can have the home raised on the pilings but there are some other floor plans
also available. Informal and casual designs with natural décor items will deliver the perfect view.

Bungalow House Plans

You can have your home with bun glow setup. Low roofs and covered porches will be ideal. They can
have one storey or more. With overhanging eaves and stone chimneys in the home interiors, this
style is very famous among people around the globe. Cozy atmosphere due to fireplaces and modern
decorative items makes for a beautiful appearance.

Cape Cod House Plan

In Cape Cod home layout, the master bedroom is on the ground floor. The houses of this kind generally
have one and a half storey. They can be one the second floor too. Mostly wood shingles are used to
decorate the area. The exteriors of this type of plan are very grand and attractive.

Colonial house plan

Colonial home plan is formal but has a touch of elegance. They originate from the America's colonial
period. Front porches may be present. But the Federal and the Georgian style may not accommodate
the porches. Both early and new American style is available for the format. Normally the houses of this
kind have two storeys.

Contemporary House plan

In contemporary home style, there is an absence of the historical designs. There is a lot to discover in
this type. Unique and designer ideas can be experimented with. The large expanse of the floors and
amazing roof designs and patterns are the characteristic of this kind of houses. They may have some
regional variations and influences too.

Cottage house plans

Cozy and small houses suit the cottage home theme. They are generally one and a half storey tall. Ranch
style has a low of similarity with the cottage design. Stone and wood materials are highly available to
fulfill the look of this kind.

Country house plans

Country homes capture the passionate and charismatic locale of the rural areas. Little
traditional and lot cottage kind of style is nicely mingled with the brilliant floor plans. Multi
pane for the windows and steep rooflines along with backyard garages and ancient fireplaces
are the feature of this kind of setup. Vast porches that may have top cover and wrap around
pillar style for the support is present.

European House plan

Lavish outdoors and intricate detailing of the European style is in existence for these kinds of
home plans. Stucco, bricks and stone are usually used in the home interiors. They can go up
till two storeys and have other influences of the French and Mediterranean country patterns.
Tudor and even Spanish designs are often found to be similar to them.

Farm House plan

These are generally in the form of traditional style and have a great resemblance to the charm
of the country homes. Ranch area is quite common in the farmhouses. They may vary from one
region to the other. But wood definition is readily seen in them. Different shapes for the floor
and the platform makes them interiors look wonderful.

French country house plan

French country is known for its vivid nature display out in the gardens and the exotic locales.
Flowers and trees make for a mesmerizing appearance. Intricate patterns of vines and flowers
are perfect for French country homes. They may be vast and have sprawling grounds in the
front. Corner quoins and balconies are essential and look majestic.

Log house plans

The log house is said to be the most awe inspiring home design. Modern log apartments with
dormers, vaulted ceilings, rustic shade interiors, and gable roofs are incredible. The appearance
is special due to the captivating natural imperfections and energy efficient surroundings in the
home. These kinds of homes make for a joyful living.

Mediterranean house plan

Italian and Spanish styles are very much in prominence in the Mediterranean home plans. Open
layout that includes high ceilings and vast exterior regions are present in them. Swimming
pool and relaxing elements in the outdoors is also significant. Tile stucco and roofs are also
cherishing here.

Southern and Southwest house plans

These kinds of houses capture the presence of the southern feeling in your home via the
designs and decorative items in the south and southwest regions. They can be formal and
informal in appearance at the same time with high and imposing ceiling designs. Lovely porches

and urban influence are also there. They are luxurious and high end in appearance.

Spanish House plans

Spanish style houses are really inspiring and trendy in looks. Tile roofs with heavy wood
trimmings and arches are just superb. Californian and Southwestern influences are also seen
here. Red, blue, golden and many other color shades are present in these house plans. Focus
areas of the home interiors are also eminent in these home types.

Victorian House plan

These houses have the influence of the 19th and the 20th century of the Victorian time. Hip
rooflines and intricate gables are prevalent in these houses. Octagonal and hexagonal shapes
are appealing for the floors and even the room or the ceiling. Friezes and window trim along
with decorative trimming of the wood is also unique. Porch and ranch are also in inclusion here.
They may range up to two storeys.

Traditional house plans

Historical styles are most relevant to the home interiors and outdoor in these plans. Both
colonial and vintage setup is common in them. Tropical, tribal and Oriental styles are few
among the list of the traditional and ancient depictions in the design type here. You may even
look out for the Gothic and Rocco pattern for the interiors.

BIO:

Manoj Goure an internet marketing manager at Intelebiz. Currently working for http://
www.rugsandblinds.com. Rugsandblinds deals offers home décor Items like area rugs and Window
Treatment.