Vinyl Double Pane Horizontal Slider Window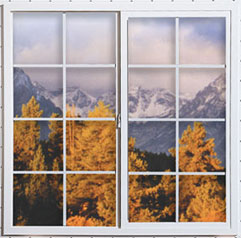 This high performance double pane horizontal slider is an Alpine Windows 70 series. It's smooth operation is obtained with few moving parts. It's low maintenance, easy to clean surfaces that are supported by durable all welded construction frame in a design that protects a home's interior from all types of weather. It works very well as a window replacement, and also has nail fin frame for new construction. It is an excellent choice for San Diego's Climate.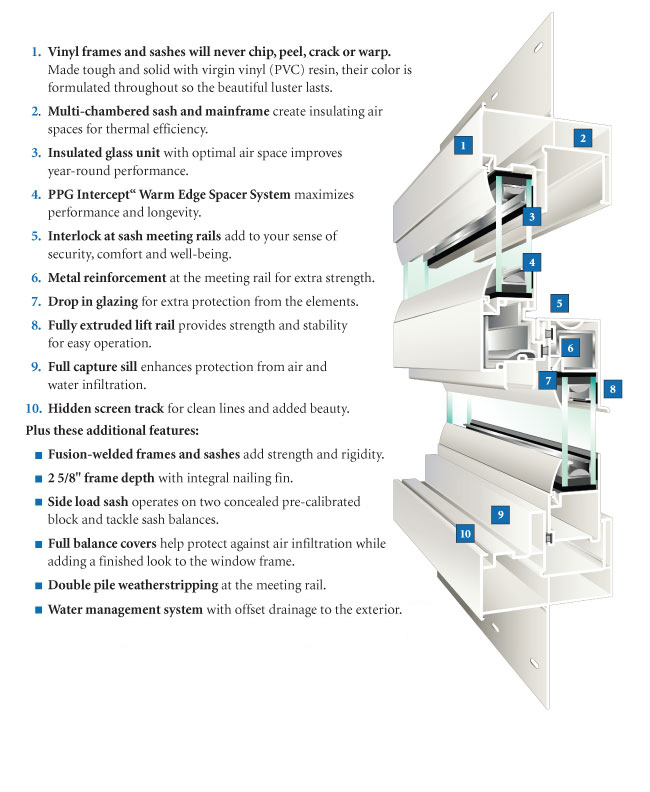 Features Include:

Sturdy 2 5/8" frame depth and integral nailing fin with 1 3/8" or 7/8" fin setback provides compatibility with wood, vinyl and stucco applications.
Nailing fin welded at all four corners for easier, more weathertight installation.
Available with integral J-channel to provide easy and clean applications for all types of siding.
Precision, computer- welded frame and sash eliminate potential leak points at sill corners for improved energy efficiency.
3/4" insulated glass unit with warm edge technology and exterior glazing. 1" unit on Picture Windows and Patio Doors.
Metal reinforced at locking rails.
Inside or outside, removable fiberglass screen for easy cleaning.

Interlock and lock handles on all sizes are metal reinforced for strength and durability.
Integral J-channel to provide easy, clean applications for all types of siding.
Removable sill track forces water and dirt away from sash for easy operation and cleaning.
Integral pull handle makes window opening smooth, sure and easy.
Integral full-length interlock with silicone treated, high-pile weatherstripping adds strength and security while reducing air infiltration for greater thermal performance.
Brass tandem roller system offers trouble-free operation.
Cam lock and keeper provide a virtually weatherproof seal.




Energy Efficiency

Stay cool in the summer and warm in the winter. This window features Low-E Glass, which is ideal for San Diego weather. It reduces heat gain in the summer by reflecting warm solar rays. It also keeps the interior temperature stable by providing insulation, keeping the heat in during the winter.

Measurement Information

Frame width and height does not include flush fin size. The frame size should be 3/8ths less than the rough opening the window will be going into. To learn how to get an accurate frame measurement for your replacement window, click here.

Custom Quote

If you need assistance in any way, or would like to receive a custom quote with specific features, Call or E-mail us to speak with a sales representative. We are capable of placing orders with more customization and options than shown here at the lowest price on the internet.

Phone: (858) 537-1635
Email:

Contact Form

Use this form to contact us with questions, comments, or feedback:

Helpful Information
Elevate The Look Of Your Home With Vinyl Sliding Alpine Windows!
Vinyl windows are made from a type of plastic called polyvinyl chloride (PVC). Vinyl windows have become popular for homeowners and builders because of their energy efficiency, durability, and low maintenance requirements. These are available in various styles and colors, making them suitable for various architectural styles. Because of their durability, vinyl alpine windows are among the prime choices for affordable window replacement.
Vinyl sliding alpine windows are a type of window that features a sliding mechanism and a vinyl frame. The term "alpine" refers to the design of the window, which typically features a wider bottom sash and a narrower top sash, giving it a distinctive look. Further, these vinyl frames provide excellent insulation, which helps to reduce energy costs by keeping the interior of the home warm in the winter and cool in the summer. The sliding mechanism of the window also makes it easy to open and close, providing ventilation and fresh air.
Explore The Various Reasons To Choose Vinyl Sliding Alpine Windows!
Vinyl sliding alpine windows are less likely to warp or deteriorate over time, providing a long-lasting and reliable option for homeowners. After the vinyl window installation from professionals, you will require minimal maintenance. And for this reason, these windows are in heavy demand in the marketplace. Read further to explore more stark features of vinyl sliding windows.
Frame Depth
The frame depth of the alpine window is 2 5/8, which determines the depth window will be visible from the inside and outside of the house, as well as how much space there is for insulation and other window components. However, the "1 3/8" or 7/8" fin setback" refers to the distance between the nailing fin and the outer edge of the window frame. This measurement is important because it determines how far back the window can be installed into the rough opening of the building's framing structure.
Sill Track
It has a removable sill track to help prevent water and dirt from entering the interior of the window frame and from making it easier to clean. Water can accumulate on the sill track and seep into the window frame, which can cause damage over time. Dirt and debris can also accumulate on the track, which can make it difficult to operate the window smoothly. Therefore, it has been suggested to consider installing replacement vinyl windows from professionals.
Energy Efficiency
It has multiple panes of glass with Low-E coatings and argon gas fills. The Low-E coating helps to reflect heat back into your home during the winter while keeping the sun's heat out during the summer. Further, the argon gas fill between the panes of glass acts as an insulator, reducing heat transfer and improving energy efficiency.
Durability
Vinyl Alpine windows are made from high-quality vinyl material that is designed to withstand harsh weather conditions. The vinyl material is resistant to fading, warping, and rotting, ensuring that your windows will look great for years to come. Further, it also has reinforced sashes and frames for added strength and durability. Therefore, it is considered a viable option for replacing vinyl windows.
Easy To Maintain
These windows are easy to clean and maintain. The vinyl material resists dirt and grime buildup, making it easy to wipe down with a damp cloth. The removable sill track also makes it easy to clean and maintain the window frame and sash.
Wide Range Of Choices
Vinyl Alpine windows come in a variety of styles and colors, allowing you to choose the ones that best fit your home's style and décor. You can choose from different styles, such as double-hung, sliding, casement, and awning windows, and a variety of colors to match your home's exterior.
Improve The Value Of Your Home With Vinyl Windows!
Vinyl Windows are a great choice for homeowners who want durable, energy-efficient, and easy-to-maintain windows that look great and operate smoothly. Therefore, it is one of the prime choices for the replacement and installation of windows. Do you need one of the best house window installation in San Diego? You can reach out to the prime services of Discount Door & Window for high-quality products. Navigate through our pages to explore our catalog to purchase your desired window at affordable rates.