Features Include:
Patio door main frame and all panel parts are fusion welded.
Adjustable tandem rollers insure smooth silent operation.
Heavy duty handle set and positive action mortise lock comply with all forced entry requirements.
Reinforced interlocking panels provide structural support and increase strength and security. This feature will insure a precise closing and locking process.
All insulated glass has standard 3/4' overall thickness for increased thermal performance.
Available in white and almond and also available in power wall.
5/8' flat grids and 1' sculptured grids available on request.
Energy Efficiency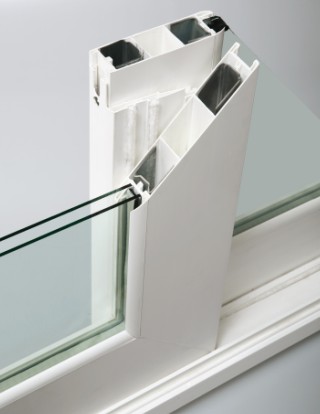 Stay cool in the summer and warm in the winter. This window features Low-E Glass, which is ideal for San Diego weather. It reduces heat gain in the summer by reflecting warm solar rays. It also keeps the interior temperature stable by providing insulation, keeping the heat in during the winter.
Between the 2 layers of glass is our "Warm Edge" High Performance spacer system which is engineered to flex with the expansion and contraction of the glass to keep it from breaking or rupturing the seal.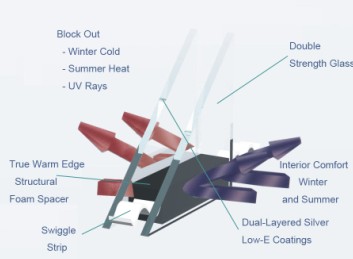 The "Warm Edge" spacer also dramatically reduces condensation. All of our windows meet or exceed the Federal standards for Energy Star when equipped with Low E glass. Low E glass also reduces the harmful UV rays that are allowed into the house, which will reduce the fading of furniture and Carpets by 75%.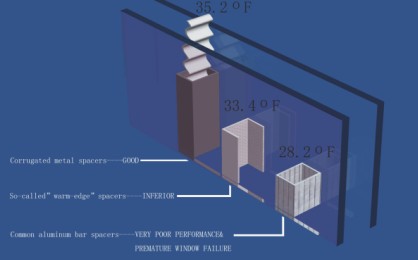 Custom Quote
If you need assistance in any way, or would like to receive a custom quote with specific features, Call or E-mail us to speak with a sales representative. We are capable of placing orders with more customization and options than shown here at the lowest price on the internet.
Phone: (858) 564-2564
Email:
Contact Form
Use this form to contact us with questions, comments, or feedback:
Helpful Information
Glass Options Available
Obscure glass gives privacy and style for windows and doors throughout your home, and is ideal for locations requiring more privacy such as bathrooms.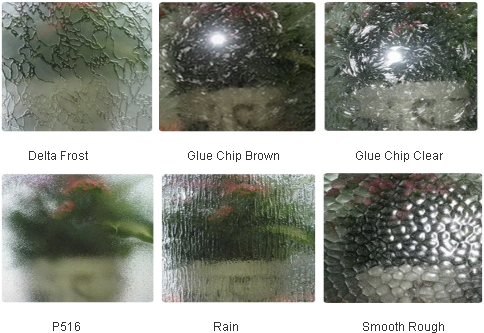 Additional Glass Options
Tempered Tempered glass is extremely strong and often used for its safety characteristics. Not only is it extra strong, but when it breaks, it cracks into thousands of pieces rather than breaking into sharp jagged edges that can harm. Of course, this makes for a much difficult clean up, but it is worth it for the safety component.
Laminated Laminated glass is highly effective in reducing noise. It also eliminates 99.9% of ultraviolet rays, providing the highest degree of protection from the sun for your home furnishings. Concerned about excessive outdoor noise?
Argon/Air Mix Optional argon gas, used between panes, is also available to further improve thermal performance
Choose Us For Your Home's Exterior Improvment!
Nowadays, sliding doors are one of the best ways to gift your home a presence of positive energy and atmosphere. Exterior sliding glass door offers easy and quick access to commonly used places, such as backyards and balconies. They are especially handy for all homeowners who love making meals in the kitchen or in the backyard because sliding doors offer a seamless link to outdoor areas. And it allows you to entertain your guests during a homecoming party or backyard barbecue party.
Features You Should Look In Sliding Doors While Purchasing
There are numerous sliding doors available in the market, and picking the right one is always a difficult task to do. Here are some basic yet essential features you should consider when it comes to purchasing an ideal exterior sliding glass door for your home..
1. Quality Of Materials
Install sliding glass door, which is typically made of glass, aluminum, vinyl, or wood. It's important to choose a high-quality material that is durable and long-lasting, especially if the doors will be exposed to the elements or frequent use.
2. Aesthetics
Sliding doors can enhance the aesthetics of your home, so look for doors that complement the style and color of your home. You can choose from a variety of frame and glass options to achieve the look you want.
3. Ease Of Operation
While opting for patio door replacement always make sure that sliding doors should be easy to open and close, with smooth and quiet operation. Look for doors with features such as ball-bearing rollers, easy-grip handles, and self-closing mechanisms.
Switch Yourself From Ordinary Store To Discount Door & Window
Discount Door and Window are committed to delivering the most inferior cost doors and windows in this industry. We achieve this by working with well-established wholesalers, keeping overhead prices down to a minimum, and passing on the savings to you.
Our goal is to make stylish and modern doors that will suit every corner of your home at affordable prices than any other storefront. We believe that sustainability, efficiency, and security are the most essential aspects when it comes to which door is perfect for your home. Patio door glass replacement is one of the best decisions and gifts for your home while sticking within your budget.
Modernize Your Home With Discount Door & Window!
Looking for a perfect exterior sliding glass door? We got you covered! We offer a huge collection of sliding doors that will perfectly replace your old dusty-looking doors. We have a team of skilled and experienced professionals who ensure your work is done properly and on time. Visit our site and grab all the appealing services at the most affordable prices.